Online Presence Tools For Any Business
Here are some tools anyone can do on a website to get a good idea of what the website visitors experience would be or what a search engine might see. These tests will answer some of the following questions a bout an online presence:
What does a website visitor experience?
How long are visitors staying on a page?
What does Google or other search engines look at?
Does a business have a decent online reputation?
People make decisions pretty quickly when they visit a website so it pays to know what they experience. Likewise, Google and other search engines analyze and provide search page rank to business websites constantly. Whether someone wants to show up organically (naturally without a paid ad) for a local search or to do well with a paid click campaign, this information can be of help.
GOOGLE REPUTATION What People Searching On Google See.
WEBSITE ANALYSIS Specific tools to see how well your website is doing.
MOBILE FRIENDLINESS Discover how mobile devices see a website
WEBSITE SECURITY Check to see if a website is secure or not.
WEBSITE SPEED TEST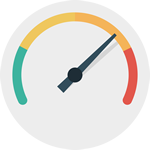 Find out how fast or slow a site loads for a visitor