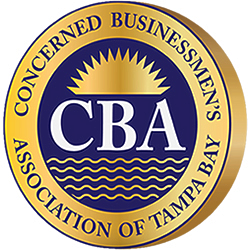 Concerned Businessmen's Association Of Tampa Bay
Concerned Businessmen's Association of Tampa Bay (CBA of Tampa Bay) is a membership group and a non-profit 501(c)(3) public betterment organization formed by Clearwater business owner, Patrick J. Clouden.
CBA of Tampa Bay was formed to connect up like-minded people who want to take on projects to better our communities.
We would very much like to increase our membership, our reach and our effectiveness, so if you would like to help us do so by becoming a member, or if you have any ideas on how or where we can direct our efforts to do so, use the buttons below.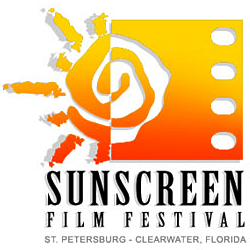 Sunscreen Film Festival
The Sunscreen Film Festival is known for its friendly atmosphere in a sun-kissed waterfront setting. The Festival screens top notch films, provides workshops and panels packed with Hollywood talent, hosts great parties, and is the top film festival in the St. Petersburg, Clearwater, Tampa, Florida area. The Sunscreen Film Festival was one of 23 festivals sponsored by the Academy of Motion Picture Arts & Sciences (the Oscars) in 2013-2014, named one of the top 25 "coolest' film festivals by MovieMaker Magazine and Best Film Festival in the Tampa Bay Area by Tampa Bay Magazine.
The Sunscreen Film Festival is organized and presented by the St. Petersburg-Clearwater Film Society Inc., a nonprofit 501(c)(3) charity dedicated to education, economic development, informing the public about the art of visual storytelling, enhancing opportunities for local filmmakers to develop their craft and art, and increasing the public's awareness and support of local filmmaking as a cultural and economic asset.
The Sunscreen Film Festival has grown from its first festival in a local art gallery with 600 attendees in 2006 to an internationally recognized event with an annual attendance of over 20,000 in St. Petersburg, FL and Los Angeles, CA.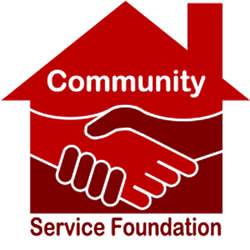 Community Service Foundation
Chartered in Pinellas County, Florida, on October 29, 1957, by Willis T. and Lenore W. Spivey, Community Service Foundation, a 501 (c)(3) non-profit organization, has been serving Pinellas County residents for almost 60 years–from our very first project in 1957 providing day care for underprivileged families in Largo and Safety Harbor to our current programs and services designed to help families and individuals find and keep affordable housing.
CSF works with Pinellas County families and individuals to provide a healthy living environment, quality of lifestyle, support services and training to put them on the road to self-sufficiency, financial stability, and self-respect. In accomplishing our mission, we provide affordable housing, educational training in homeownership and household budgeting, Fair Housing counseling, and other related housing services to Pinellas County residents.
Sponsored and funded by Pinellas County; the cities of Clearwater, Largo, and St. Petersburg; and the U.S. Department of HUD, CSF administers a variety of programs to help Pinellas County residents improve the quality of their lives and achieve their dream of homeownership.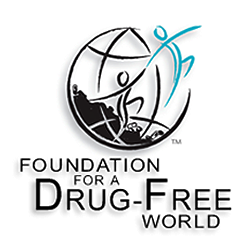 Foundation for a Drug-Free World
The Foundation for a Drug-Free World is a nonprofit public benefit corporation that empowers youth and adults with factual information about drugs so they can make informed decisions and live drug-free.
No one, especially a young person, likes to be lectured about what he or she can or cannot do. Thus, we provide the facts that empower youth to choose not to take drugs in the first place. Additionally our Truth About Drugs campaign consists of activities that they can join which popularize drug-free living. These activities are simple, effective and can involve people of all ages.
Through a worldwide network of volunteers, 50 million drug prevention booklets have been distributed, tens of thousands of drug awareness events have been held in some 180 countries and Truth About Drugs public service announcements have been aired on more than 500 television stations. These materials and activities have helped people around the world learn about the destructive side effects of drugs and thereby make the decision for themselves to not use them.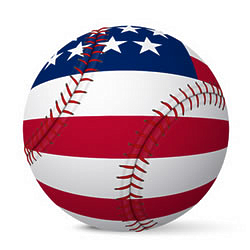 Bomb Squad Baseball Tournament
"Kurtis, I wanted to circle back to let you know I was very happy with your tournament. We do a lot of Pastime tourneys, and I'm a big believer in you get what you pay for, so my expectations were tempered coming into the weekend.
I thought it was a very well run tournament, and you far exceeded my expectations. The umpires did a good job, you managed the schedule very well in spite of the rain, and the fields were pretty nice. There were some quirky rules, which I didn't mind, and I think it made the tournament a little different (specifically the format with all teams being seeded, and the tie-breakers).
With this being our last year, I sure wish I knew about your tournaments sooner. I will certainly recommend you to teams looking for a place to play in the coming years. Well done, thanks for a great weekend."
VR – 18U Michigan Diamond Jaxx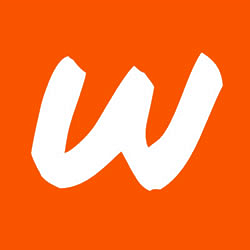 Wabamm – The Pinellas County Website
Do you ever find yourself sat at home with the kids with nothing to do? They get bored, and you get frustrated, and you just wish there was some way to find something to go do? Inspired by the difficulty of finding something family friendly in Pinellas County, Keanan Kintzel began to develop Wabamm, a Local Activity Search Engine.
One other aspect of the site, is that, as well as the functionality for business, there are pages specifically for charities and non-profits. Buzzazz wanted to make it easy for charities to promote themselves and to engage with local people, and Wabamm gives them the tools to do just that.
The notion of charity starting at home can sometimes mean that people like to give their money to charities that directly affect their local community, and Wabamm is a powerful tool for doing just that. Let people know what it is that you do and how they can help, and in the same action help improve your local community.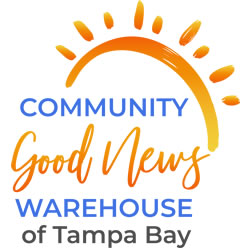 Community Good News Warehouse
This online warehouse is home to videos, articles and more… all with one thing in common – good news!
This is where all the good news from Tampa Bay Area live. That is why our tagline is: "Like minded people uplifting the community."
The Community Good News Warehouse is home to all things "good news." We have collected and created all the stories, videos, photos, and blogs of the really cool people, places and things in our community. You've found your new home! Here is where you can keep up with what's going on in your neck of the woods. There is information for everyone – not a category we don't cover!
International Youth Theater
International Youth Theater was formed in the summer of 2008 in North West Indiana – just outside of Chicago. It was the inspiration of young Joseph Sky Kintzel who at the ripe old age of 13 had already performed in a large number of local stage and variety show productions.
Since birth, Sky followed the footsteps of his two older sisters Sandra and Sarah as they performed song and dance throughout most of their childhood. His gifts seem to have been developed primarily from his mother Kim's side of the family – she, her sisters and brother and all their children are talented artists themselves. Sky continued his natural evolution last year by directing a production of "Into The Woods" which his father Kurtis helped to Produce.
Now well in to the 2nd year of it's evolution – International Youth Theater is expanding across local boundaries. This current production in Clearwater, Florida will showcase young talent with roots from America to Europe. Contact us directly if interested in participation or attending one of our upcoming shows…