Photo Credit: Errol K. Archer
T. Archer Design,
Changing Lives With Interior Design
When we transformed our office into an art gallery for an evening last month, as part of the Clearwater Art Walk, we created something really special, and got to meet some wonderful people who were drawn in by the art. One of these people was Tamara J. Archer, who has been in the design business for a while now, and who we wanted to introduce everyone to.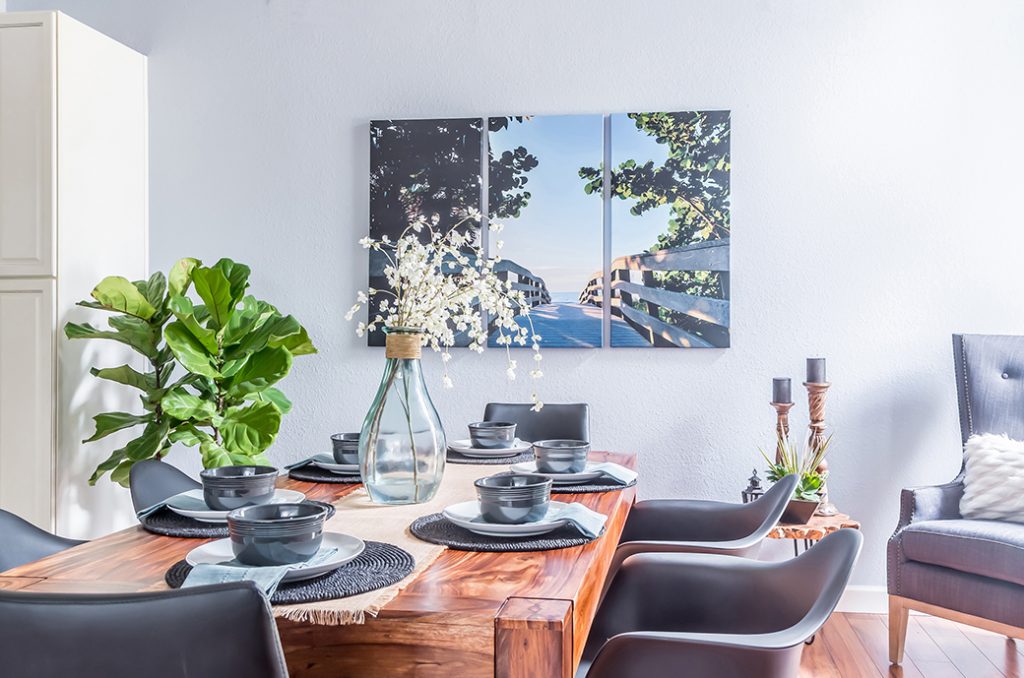 What Is Your Name And What Is The Name Of Your Business?
Tamara J. Archer. My company is T. Archer Design www.tarcherdesign.com
How did you get into the business you're in?
As a kid I always had an affinity for interior spaces, even though I didn't know at the time that interior design was a career option. After working in the advertising industry for a few years, I decided to enroll in a bachelor's program for interior design. Shortly after completing my degree I started working on projects for friends and family, and the business grew from there.
How long have you been in business?
It's been 11 years.
What is the thing you like best about the work you do?
I love that my work allows me to be as flexible and creative as I want to be. That helps me continue to grow and evolve as a designer. In the process, I get to help my clients tell their own stories through my designs.
What have been your successful actions?
Recently I've had the opportunity to spend a few months in Jamaica working on interior design at 4 luxury resort properties. I worked with a team there to develop unique design concepts that enhance the guest experience. That has allowed me to broaden my practice into the area of hospitality design. I'm very excited about that.
What might be something people would be surprised about what you do?
People are usually surprised at the technical process involved in interior design. Only part of the process involves aesthetics. The other large part involves aspects like schematics, architectural detailing, environmental psychology, and ergonomics, as they apply to how we interact with interior spaces. There are many layers required that people don't see, to achieving a successfully designed space.
What's your favorite thing to do when you're not working?
I enjoy going to the beach, which is one of the things that really drew me to Clearwater. I also love traveling. Over the years, I've drawn so much of my design inspiration from the beach and my cultural experiences from traveling. I like destinations that are rich in history and culinary diversity. I'm definitely a foodie.
Anything else you would like to tell people?
I'd like to tell people how much interior design is an essential part of our daily lives and that everyone deserves to live, work and play in spaces that inspire them. Interior design is about expression— about how spaces like your home make you feel and what it says about who you are.
What Services / Products do you provide?
We provide full-service interior design from consultations, product sourcing, and remodeling, to custom-tailored spaces.
What Is Your Target Market?
My ideal client is someone who values personal attention and an eclectic creative approach. They want a timeless space customized for them and their lifestyle, that they can enjoy for years.
What do you love most about your business?
What I love most is how transformative interior design can be. Great interior design evokes positive emotions and memories. Our wellness, emotional and behavioral responses are considerably impacted by designed environments.
For Interior Design, Check Out T. Archer Design Today!
What do you hate most about your business?
Interior design has become very popular in recent years due to home design shows. I think it's wonderful that the industry has gained so much attention, but I also think that design shows have given a lot of people a false idea of the interior design process. They only see short edited versions of what it takes to design beautiful spaces.
What is your 5-year goal?
My 5-year goal is to continue to learn and grow as a designer and a company. I'm currently in the process of working on a home décor line. I also want to hire more designers and develop a mentorship program for other entrepreneurial-minded designers who are just starting out. I remember how difficult it was for me to find my footing after design school, so it's very important to me that I'm able to help recent grads who are looking for guidance.
What is the most important function of your company?
The most important function of my company is understanding our client so that we design the best space possible for you. We want your space to be a reflection of you, your personality and your style, because style isn't just about what you wear.
Let us know if you would like to be interviewed for The Buzzazz Digital Hive Magazine.