Iggy Azalea quits twitter because she is too fancy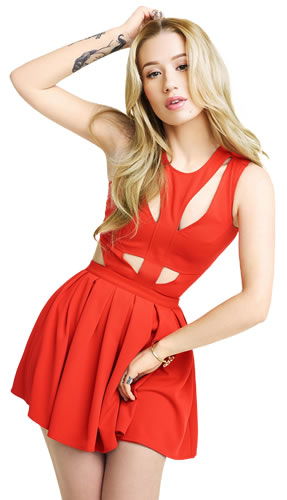 On February 18th at 11:27pm Iggy Azalea tweeted to all her followers a long string of reasons why she is leaving twitter and handing it over to her management team. Iggy has a track with a few incidents online involving other celebrities such Snoop Dogg or Snopp Lion and Eminem. Iggy Azalea's last tweet was on February 18th at 11:37 pm which stated, "The Internet is the ugliest reflection of man kind there is."
Iggy tweeted multiple times from 11:20 PM to 11:37 PM with some reasons for why she is leaving twitter behind her.
"Just got back from a great vacation, came online and saw apparently it's shocking and unheard of to be a woman and have cellulite. Lol. I just want to have peace and relaxation time without a perve with long distance lense hiding out taking pictures, everyone deserves peace. I feel the hatred and pettiness i see online at all times is at making me become an angry person and I cannot be that. To become nasty because of the way I feel iam treated would be a disservice to my fans and I promise i will try to keep smiling. But I also want to let my fans know iam taking some time away from social media. I need to be happy and it is too negative and draining. My management will tweet/run my accounts from today onwards with updates etc unless any message is signed -IA. Love you all. Peace out! The Internet is the ugliest reflection of man kind there is."
Was it right for Iggy Azalea to let paparazzi and the media get to her and make her turn away from social media? If you where in her red bottoms (Louis Vuitton heels) would you do the same thing to get some peace and quiet?
If it was me I wouldn't have quit. I would keep fighting and sticking up for myself and I do believe the internet is a great tool. However because most of the world has access to it, you can find a lot of false information and nasty opinions and comments about people. Not to mention the fact that social media is a great tool for a celebrity to use as a marketing tool. It gives a famous artist, such as Iggy Azalea a direct feed to keep all her fans up to date on what she is doing and helps advertise and sell her albums, concerts and other promotions she is involved with. It is good that at least her management will still be updating it, but it is always more genuine and personal when the artist handles their social media themselves. Also, the fact that she has announced her leaving social media behind her has given her more attention as people such as myself are now writing about it and now her name is trending with Google 🙂