Customer's Online Experience
Here are some tests you can do on your website to get a good idea of your Customer's Online Experience. These tests will answer some of the following questions for you about your online presence:
When your user comes to your site, what is it that they are seeing?
How long are they staying on the page?
Do they get the data that they need about your company?
Do you get the data that you need about them?
People make decisions pretty quickly when they land on a page, and if your page isn't up to specifications, they are going to bounce out of there quicker than the white rabbit who's late for a very important date.
WEBSITE LISTING See what is pulled for display from the site.
WEBSITE SPEED TEST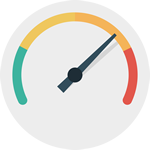 Find out how fast or slow the website is.
MOBILE FRIENDLINESS Is the website behaving properly on mobile devices?