Buzz Radio – Custom Digital Radio Broadcasting
Targeted Audience Engagement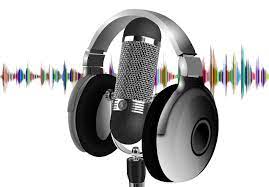 New Prospect Lead Generation
The main objectives of digital radio shows are to help create greater awareness of your business, products and services.
Features
Professional Radio Host Interview
Your Business Story Told Well
Published on Featured Digital Shows
Posted to Premium Platforms
Episodes that Can Be Shared
Integration into Digital Marketing
Professional Editing & Studio Quality
Large Audience Awareness
Analytic Metric Reports
Tailor Made Marketing Strategies
Benefits
Expert Positioning
Supports and Boosts Your Brand
Useable as a "Digital Calling Card"
Prospects & Leads
Referral Generation
Creates Brand Ambassadors
Hard Sell without Having to Sell
Enlighten Large Numbers of Prospects Simultaneously
Broadly Make Your Business Known
Easily Integrates Within Other Digital Marketing
"Buzzazz is great! We 10x'd our company…

and had our highest income ever!"
Process
Identify Your Ideal Prospects
Build Your Various Audiences
Utilize Cutting Technologies
Well Cultivated Story Board
Episodes or Show Creation
Metric Reports
Expectations
Advanced Branding With Your Target Prospect Audiences
Greater Numbers Of Prospects Knowing Your Business
Regular Reports To Monitor Campaigns
Professional Quality Episodes & Shows
Expanded Market Reach
Customized Campaign Modifications as Needed
Live USA Tech Support
Digital Radio Shows help to make a business better known and can create a flow of new prospects.
Standard
Main Goal is a Guest Appearance on Radio Buzz

+ Pre-episode Project Intake Meeting

Content Agreement

Digital Questionnaire

Resume & Bio Integration

Vital Bullet Point Clarification

Story Board Evolution

Customized Interview Process

Up to 45 Minutes of Raw Recording

Post Production Editing

Episode Publication on Buzz Radio Digital Show

Buzz Radio Platform Distribution

"Over the Shoulder" Option Available

Link to Episode Embed Code

24 Hour Support Ticket System

Live USA Customer Service

Episode Integration into Social Media

Episode Integration into Search ads

Episode Integration into Web Presence

6 Episode Option

Company Digital Radio Show

Custom Digital Radio Platform Distribution

Target Audience Radio Show Interviews

Monthly Episode and Digital Advertising
Professional
Main Goal is a Guest Appearance on Radio Buzz

+ Pre-episode Project Intake Meeting

Content Agreement

Digital Questionnaire

Resume & Bio Integration

Vital Bullet Point Clarification

Story Board Evolution

Customized Interview Process

Up to 45 Minutes of Raw Recording

Post Production Editing

Episode Publication on Buzz Radio Digital Show

Buzz Radio Platform Distribution

"Over the Shoulder" Option Available

Link to Episode Embed Code

24 Hour Support Ticket System

Live USA Customer Service

Episode Integration into Social Media

Episode Integration into Search ads

Episode Integration into Web Presence

6 Episode Option

Company Digital Radio Show

Custom Digital Radio Platform Distribution

Target Audience Radio Show Interviews

Monthly Episode and Digital Advertising
Elite
Main Goal is a Guest Appearance on Radio Buzz

+ Pre-episode Project Intake Meeting

Content Agreement

Digital Questionnaire

Resume & Bio Integration

Vital Bullet Point Clarification

Story Board Evolution

Customized Interview Process

Up to 45 Minutes of Raw Recording

Post Production Editing

Episode Publication on Buzz Radio Digital Show

Buzz Radio Platform Distribution

"Over the Shoulder" Option Available

Link to Episode Embed Code

24 Hour Support Ticket System

Live USA Customer Service

Episode Integration into Social Media

Episode Integration into Search ads

Episode Integration into Web Presence

6 Episode Option

Company Digital Radio Show

Custom Digital Radio Platform Distribution

Target Audience Radio Show Interviews

Monthly Episode and Digital Advertising